At Bustles and Bows we like to take care of all aspects of your wedding party clothing and can provide gorgeous gowns for you and your bridesmaids and flower girls
HELEN
Hi I'm Helen, owner of Bustles and Bows, and its safe to say I have been completely obsessed with weddings and wedding dresses for as long as I can remember, I made my first dressing-up wedding dress age 7 (helped by my mum) from an old net curtain she was throwing out, this is when my love of wedding dresses began and the rest as they say is history…
Now the proud owner of a beautiful bridal showroom I count myself very privileged to be working in a job that I love and helping brides prepare for the happiest day of their lives. In my spare time I enjoy all types of needle crafts,gardening, cooking up all kinds of amazing vegan food and going out for walks with my labrador Thula. I love 50's style and collect vintage china teacups and pots. I was married aged 20 to my childhood sweetheart (we have been together since I was 16),happily married for 35 years and we have 3 lovely grown up children, Ours is very much a family business with everyone helping out whenever I need them to.
The very first wedding dress I made was my own which was white satin and lace, I also made the dresses for my 5 bridesmaids. I studied Needlework and textiles in South Africa which is where I learned tailoring and dressmaking, most of my skills are self taught as I love to find out how things work to make them fit best, I still enjoy perfecting my craft every day as I'm seamstress at Bustles and Bows.
I look forward to meeting you and perhaps helping you find 'the one'.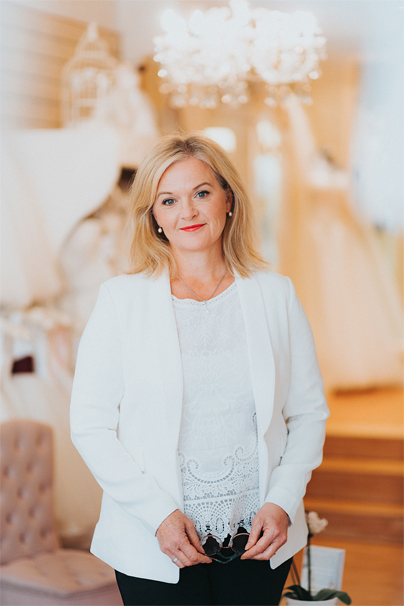 At Bustles and Bows we like to take care of all aspects of your wedding party clothing and can provide gorgeous gowns for the bride, her bridesmaids and the flower girls Established in 1997 we have a wealth of experience in dressing brides and their bridal parties.
Many of our customers come to us through recommendations from friends and relatives, and we have built up an excellent service reputation of which we are very proud. We are accredited members of the prestigious Retail Bridalwear Association who have very strict membership criteria, so you can be assured we are a professional and credit worthy business, only 10% off bridal stores have attained membership of this organisation, in addition all gowns purchased from us will be covered by their bridalsure policy which means you can purchase your gown from us with peace of mind.
Our bridal collections are carefully chosen from award winning designers with styles ranging from simple and elegant to fairy-tale princess gowns, all made in sumptuous quality fabrics with exquisite hand finished detailing. The bridesmaids' collections are chosen to compliment our bridal collections and come in many different fabrics and colours to suit your wedding theme or colour scheme.
Once you have chosen your bridal and bridesmaids dresses we have stunning range of bridal accessories, including veils, tiaras, headbands, bridal lingerie and shoes, and can also provide a shoe and bag dyeing service to ensure all your accessories match up perfectly.
Our in-house fitting and alteration service will ensure all your outfits are fitted to perfection and we are always happy to go that extra mile whether it means adding extra crystal details or crafting a new veil from an antique family heirloom. We love to help you style up your wedding and look forward to welcoming you to our store soon.